Êtes-vous à la recherche d'une trottinette qui soit une bonne alternative à celles que propose Razor, d'ailleurs très rares actuellement sur le marché ? On a beaucoup testé de marques alternatives, et il nous semble que la meilleure option est d'opter pour la trottinette Stamp Jb275001.
Esthétiquement remarquable avec un design innovant, cette trottinette tout terrain se démarque également par sa solidité, sa compacité et sa légèreté. Avec de tels atouts, cette trottinette Dirt peut être un excellent choix en dépit de quelques défauts handicapants.
out of stock
as of 25/10/2021 6 h 50 min
Les caractéristiques de la trottinette Stamp -Jb275001
out of stock
as of 25/10/2021 6 h 50 min

Dotée d'un design impeccable, la trottinette Jb275001 du fabricant Stamp est un modèle tout terrain qui convient à vos enfants de 5 ans plus.
Elle est donc conçue pour s'adapter à tous les types de chemin, aussi bien en ville qu'en zone rurale. Peu importe l'endroit où votre enfant souhaite la conduire, celui-ci pourra toujours profiter des multiples atouts de cette trottinette Dirt particulièrement robuste.
Muni d'un cadre en aluminium et acier renforcé et de poignées en TPR, cet engin est parfaitement résistant. Le collier de sevrage aluminium double point fait partie des équipements qui assurent à cette trottinette polyvalente sa solidité à toutes épreuves. Avec une telle conception, impossible pour son utilisateur d'avoir à remonter régulièrement le guidon de son appareil. Par ailleurs, l'utilisation de matériaux nobles tels que l'acier et l'aluminium fait de la Jb275001, une trottinette avec une durée de vie intéressante.

En tant que trottinette tout terrain, la Jb275001 de Stamp se caractérise par sa facilité, son confort et sa sécurité de conduite. Elle dispose d'un guidon BMX avec rotation 360° parfaitement réglable en hauteur. Il est par conséquent facile pour le conducteur de diriger son engin dans le sens souhaité.
De plus, l'utilisateur de cette trottinette bénéficie d'un confort optimal avec un plateau rabaissé et de hauteur réglable très ergonomique. Ce modèle dispose en outre d'un mécanisme de pliage sécurisé et d'un plateau anti-dérapant pour une conduite à la fois plaisante et sécurisée.

Sécurité de la trottinette Stamp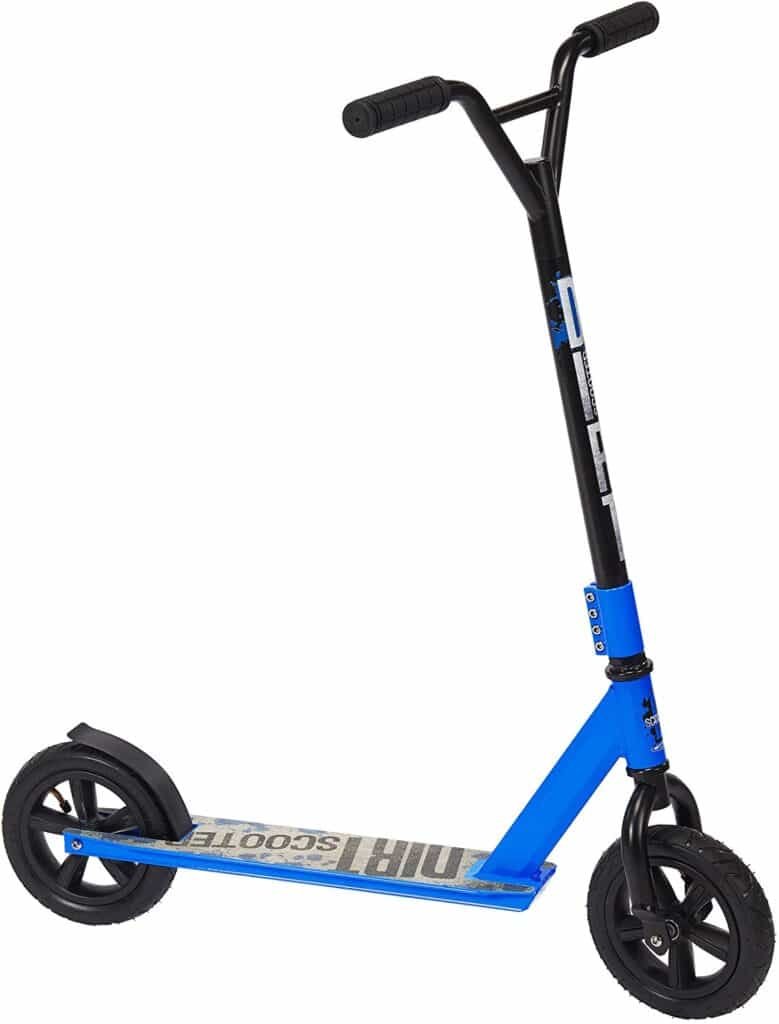 La sécurité et le confort qu'offre la trottinette Jb275001 sont renforcés avec ses roues gonflables en polyuréthane de différentes dimensions.
Selon les modèles, elle peut être équipée de pneus de dimension 100 mm, 125 mm, 145 mm, 180 mm et 200 mm. Quelle que soit l'option choisie, sachez que les avantages des roues gonflables sont multiples.
Capables d'absorber plus facilement les chocs et d'amortir les coups, de tels équipements conviennent à un large éventail de sols.
Il est ainsi possible de conduire cet engin sur des terrains en relief, plats ou lisses comme les pavés ou encore le gravier par exemple. L'intérêt de ce genre de roue réside également dans la faiblesse de la surface de frottement au sol, ce qui réduit considérablement la nuisance sonore lors de l'utilisation de votre trottinette Jb275001 de Stamp.
Vous remarquerez très vite la souplesse de la conduite et l'excellente tenue de route de cette trottinette grâce à ses roues gonflables. Celles-ci lui assurent une meilleure adhérence sur des sols humides. Les deux roues gonflables de ce modèle du fabricant Stamp sont d'ailleurs assez grandes avec un diamètre atteignant les 200 mm, voire plus.
Ce qui veut dire que votre enfant, qu'il soit un garçon ou une fille, pourra se déplacer plus rapidement tout en fournissant moins d'efforts. De plus, elles sont équipées de roulements Abec 5 ou 9 et de frein arrière pour un pur bonheur de conduite.
La trottinette Stamp JB275001 est-elle tout terrain ?
out of stock
as of 25/10/2021 6 h 50 min
Comme tout bon modèle de trottinette tout terrain, la Jb275001 de Stamp séduit ses utilisateurs par sa légèreté.
Avec seulement un poids de 5,5 kg, elle est facilement transportable. Vous pouvez ainsi l'emporter partout avec vous afin de simplifier au maximum la vie en l'utilisant comme moyen de déplacement, que ce soit en ville ou en pleine campagne. Cette trottinette n'est pas uniquement légère. Elle est également compacte avec des dimensions (L x l x h) de 84 x 51 x 98 cm. Avec cette taille, vous ne regretterez pas d'investir dans un appareil d'une grande maniabilité et très simple d'utilisation. Grâce à sa compacité, cette trottinette Dirt est peu encombrante. Vous n'aurez donc de souci à trouver un endroit de votre maison où le garder lorsqu'elle n'est pas utilisée. C'est un aspect très important à ne pas négliger au moment de choisir ce type d'engin de déplacement, car le problème d'espace peut se poser, surtout quand vous partez en vacances ou en week-end.

La trottinette Jb275001 est livrée avec un large choix d'équipements d'accessoires pour une plus grande praticité et un meilleur confort d'utilisation. Ce modèle est en effet est doté de freins arrière au pied en aluminium qui garantissent un arrêt aisé et sécurisé. Cette trottinette est également équipée de béquille assure un rangement et un usage pratiques de l'engin en permettant de le garer en toute simplicité.
Cette version est en outre proposée avec un deck ultra-léger de dimensions 10.5 X 52 cm pour un empattement très court de 63 cm.
Grâce à la légèreté de son deck, cette trottinette pour enfant vous ravira en termes de maniabilité. Le fait qu'il soit court convient à la catégorie d'utilisateurs à laquelle elle est destinée, à savoir vos bambins âgés de 5 ans au moins.
Cette trottinette embarque également un compteur. Son conducteur peut ainsi lire facilement des informations cruciales telles que le niveau de charge de la batterie ou encore la vitesse. La liste n'est pas exhaustive, et cette trottinette est disponible avec de nombreux autres éléments.

Notre avis sur le design de la STAMP JB
Côté design, cette trottinette saura répondre à vos attentes avec des finitions de qualité irréprochable. Vous n'aurez donc pas de difficultés à conserver l'éclat d'origine de cette trottinette. Dans le même ordre d'idées, le Jb275001 de Stamp offre une autonomie intéressante comprise entre 20 et 25 km se situant dans la fourchette de la plupart des modèles tout terrain du marché. Avec une telle performance, ses utilisateurs seront comblés de profiter de plus balades en ville comme à la campagne.
Gardez à l'esprit que la vitesse est également un paramètre déterminant à l'occasion d'un achat de ce type d'appareil. Le constructeur respecte la réglementation relative aux vélos à assistance en ne dépassant pas la vitesse de 25 km/h.
Il convient de souligner par ailleurs que cette trottinette tout terrain séduit par sa rapidité de charge avec un temps recharge allant de 3 à 5 heures via une prise secteur.
Les Points forts de la Stamp

Excellente qualité de fabrication : la trottinette Jb275001 séduit par ses finitions remarquables avec un alliage en acier de très bonne qualité. Des matériaux spécialement choisis à la fois pour leur aspect esthétique et leur grande résistance. Qu'elle soit utilisée en ville ou en compagne, cette trottinette est un produit parfaitement durable.

Compacte : ce modèle de la marque reste l'un des plus compacts du marché de sa catégorie avec des dimensions de 84 x 51 x 98 cm (L x l x h) pour une prise en main facile. Avec de telles mesures, cette trottinette peut se transporter facilement, dans les transports en commun tels que le métro par exemple.

Robuste : différents matériaux particulièrement résistants tels que l'acier et l'aluminium sont utilisés dans la fabrication de la trottinette Jb275001. Ce qui lui assure une très grande robustesse et par conséquent une longue durée de vie. Des composants essentiels formant la structure comme le guidon, les poignées, le deck ou encore le collier de sevrage sont réalisées des matières réputées pour leur résistance. C'est pour cette raison que cette trottinette est capable de supporter jusqu'à 100 kg de poids.

Facilité d'entretien : grâce à son alliage en acier, la Jb275001 comme toute trottinette tout terrain est simple à entretien. Pas besoin de fournir de gros efforts pour garder l'éclat d'origine de cette trottinette plus longtemps.

Mécanisme de dépliage et de pliage sécurité : cette conception vous permet de plier et déplier votre trottinette Jb275001 en un temps record. C'est en cela qu'elle constitue un excellent choix pour des déplacements sur de courts trajets.
Les Points faibles de la Stamp

Résistance à l'avancement trop importante : elle est équipée de pneus gonflables qui ont l'inconvénient d'offrir une résistance importante à l'avancement lors de la conduite.

Autonomie moins intéressante en terrain accidenté : comme pour toutes trottinettes tout terrain, ce modèle Stamp se comporte différemment selon que vous la conduisez sur un terrain accidenté ou plat.

Risques élevés de crevaison : elle est dotée de roues gonflables qui sont plus sujettes à des crevaisons, contrairement aux pneus pleins.

Alors on achète ?
La trottinette Jb275001 de Stamp possède de réels atouts tels que sa robustesse, sa maniabilité et sa compacité bien que quelques limites comme les risques de crevaison soient parfois un peu embettant.
On achète 🙂
out of stock
as of 25/10/2021 6 h 50 min
Pour une gamme plus élevée, il est également possible de se tourner vers des modèles actuellement plus avantageux comme l'Etwow Booster S2, Egret One GT ou encore l'Inmotion L8.