En 2017 de nombreux constructeurs ont tenté leur chance sur le marché de la trottinette électrique adulte. Parmi eux, le chinois Xiaomi, dont le credo est de proposer un rapport qualité-prix optimal sur tous ses produits, a commercialisé la Xiaomi M365. Son tarif est généralement très abordable, mais qu'en est-il de la qualité du produit ?
Dans cet article nous vous proposons un test complet de la Trottinette Xiaomi M365.
out of stock
as of 26/01/2022 3 h 16 min
Mis à jour le 04/08/2020
Caractéristiques
Xiaomi a choisi de proposer une trottinette électrique à l'esthétique épurée. Décliné en 2 versions (noir et rouge, et blanche et rouge) au design sobre et élégant, l'objet a de l'allure tout en sachant se fondre dans le décor. les dimensions de trottinette xiaomi m365 sont de 108 x 43 x 114 cm pour un poids de 12,5 kg. Cela en fait un objet plus lourd que la plupart des modèles concurrents.
Lorsque l'on plie la trottinette, on a un sentiment de solidité rassurant. En revanche, pour la transporter, il faudra trouver un sac adapté et tolérer son poids. Ce dernier pourra générer une certaine fatigue si on utilise la Xiaomi M365 sur des parcours assez longs. Nous sommes loin des produits les plus compacts.
Cependant, elle révèle tout son potentiel lors d'un usage quotidien en milieu urbain. Facile à démarrer, il suffit d'enclencher le bouton d'allumage, de donner une impulsion avec le pied (démarrage de sécurité) et d'appuyer sur l'accélérateur. Elle est capable de monter des pentes jusqu'à une inclinaison de 15°, ce qui la rend efficace dans la plupart des centres-villes. A noter toutefois sa perte de couple dès que la batterie passe en dessous des 50% d'autonomie.
Le bolide est vraiment pratique pour se faufiler partout, et si on évolue essentiellement sur des terrains plats lors de trajets plutôt courts, elle fera vraiment économiser aussi bien du temps que de l'énergie.
En outre, la trottinette électrique ne dispose malheureusement pas d'écran : si vous souhaitez ajuster ou consulter la vitesse, il faudra recourir à un smartphone sur lequel vous aurez préalablement téléchargé l'application Mi Home ou Ninebot. En revanche, le niveau approximatif de batterie est indiqué par des voyants bleus sur la trottinette.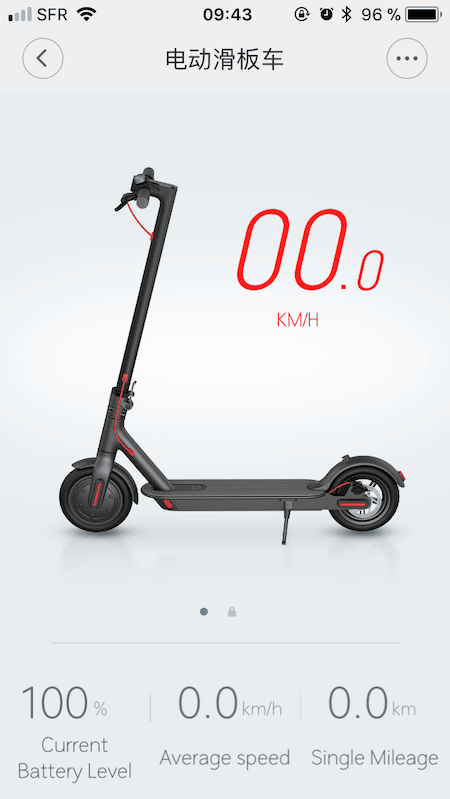 En pratique, lorsqu'il ne reste qu'une seule LED bleue qui clignote, la vitesse est très limitée et vous disposez de moins de 2 kilomètres d'autonomie. Il est possible, quel que soit votre niveau de batterie, d'appuyer deux fois rapidement sur le bouton d'allumage pour activer un mode économie d'énergie très bien pensé.
Les poignées assurent un bon confort d'utilisation et une préhension correcte qui permet de garder le contrôle même sur des terrains légèrement humides ou accidentés. Cela s'explique aussi par la présence de pneus 8,5'' anti-dérapants d'excellente qualité.
Toutefois, les pneus ne sont pas équipés d'amortisseurs. Ils restent capables d'encaisser avec une grande efficacité quelques chocs, même si l'utilisation sur des routes potentiellement plus dangereuses, comme dans certaines campagnes, est déconseillée et aura un impact très sensible sur l'autonomie.
La Xiaomi M365 a été conçue pour résister à l'eau et à la poussière et bénéficie de la certification IP54. La plateforme est aussi recouverte d'un revêtement antidérapant qui vous évite de glisser par temps de pluie. Il est donc possible de vous déplacer avec la trottinette en cas de faibles intempéries (en étant toutefois vigilant).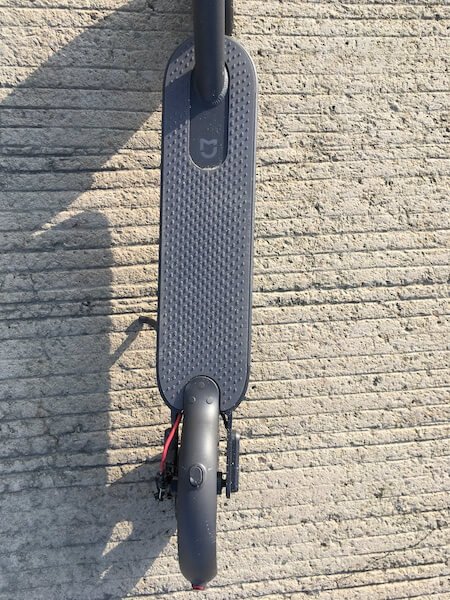 La vitesse maximale annoncée par le constructeur est de 25 km/h pour une autonomie de 30 km. En pratique, nous avons pu atteindre une vitesse maximale de 27km/h en navigant au total une vingtaine de kilomètres. Il faut noter que les chiffres vont varier en fonction de votre poids et des conditions climatiques. Jusqu'à 100 kg sont supportés.
Ces valeurs rendent la Xiaomi M365 aussi performante que certains modèles haut de gamme coûtant parfois le double de son prix.
Sur le plan de la sécurité, tous les indispensables sont présents : une sonnette que l'on entend bien et de feux avant et arrière viennent agrémenter le véhicule. De plus, l'appareil est équipé de deux freins : un frein avant E-ABS et un frein arrière à disque qui se montre particulièrement réactif.
En roulant, nous avons réellement l'impression d'avoir tout sous contrôle. Nous n'avons ressenti aucune inquiétude particulière ce qui nous a permis de vraiment nous concentrer sur le pilotage et la route. De ce fait, nous avons eu grand plaisir à utiliser la Xiaomi M365 et ce sans craindre un accident.
La trottinette est équipée d'un moteur d'une puissance de 250 watts lui permettant largement de remplir les promesses de sa fiche technique. Il nous aura fallu plus de cinq heures pour recharger entièrement la batterie. C'est long, pour une autonomie qui n'excède pas celle de modèles ne demandant que 3 heures de recharge.
La solidité est au rendez-vous. Malgré le prix plutôt léger généralement affiché, nous n'avons jamais eu l'impression d'être face à un produit d'entrée de gamme. Au contraire, qu'il s'agisse du confort d'utilisation, des fonctionnalités ou des performances, l'usage au quotidien nous a rassuré plus qu'il ne nous a inquiété.
out of stock
as of 26/01/2022 3 h 16 min
Test vidéo
L'équipe de Matrott a réalisé pour vous un test vidéo de la trottinette électrique Xiaomi M365. Bon visionnage 🙂
Points forts de la trottinette xiaomi m365
Excellent rapport qualité/performances/prix
Excellent confort de conduite
Freinage efficace (frein à disque + frein électronique)
Esthétique réussie
Exigences de sécurité respectées
Points faibles
Poids (12,5 kg)
Pas de suspensions (toutefois les roues gonflables absorbent assez bien les chocs et vibrations)
Pas d'écran d'affichage de la vitesse etc.
out of stock
as of 26/01/2022 3 h 16 min
Conclusion
Affichée pour un tarif généralement modeste, cette trottinette électrique adulte s'avère très confortable à utiliser. On s'y sent parfaitement en sécurité. Elle est vraiment irréprochable sur terrain plat et en utilisation citadine, mais souffre de performances et d'une autonomie réduite sur terrains accidentés ou pentus.
En bref, la Xiaomi M365 est un excellent produit. Ce n'est ni l'option la plus puissante, ni la moins chère du marché, mais c'est de loin celle qui propose le meilleur équilibre entre qualité, prix et performances. C'est un des modèles les plus réussis de l'année, si ce n'est tout simplement le meilleur en ce qui concerne le rapport qualité-prix.
Remarque : le port d'équipements de protection lors d'une sortie en trottinette est vivement recommandé.