D'abord perçue comme un jouet pour enfant, la trottinette était très peu crédible dans le monde de la glisse urbaine. C'est seulement à partir de 2008 que les skate-parks français ont vu débarquer les premiers bolides freestyle plus rigides et plus solides.
Aujourd'hui, leur présence est majoritaire dans les parks grâce à son accessibilité et sa simplicité contrairement à la pratique du skate.
Enfin et surtout, c'est l'effet de mode qui a propulsé aussi rapidement la trottinette autrefois jugée ringarde, sur le devant de la scène freestyle.

Pour pallier un besoin de plus en plus fort, la marque française Ethic DTC a choisi de proposer des modèles de trottinette freestyle haut de gamme à des tarifs tout à fait abordables. En effet, vous pouvez aujourd'hui vous procurer une trottinette freestyle Ethic pour une moyenne de 250 €. Créée par Kevin Demay, lui-même grand rider, la marque a pour but d'offrir des produits d'exception tant par la qualité que par le design.
Alors difficile de ne pas mentionner la marque lorsqu'on parle de trottinettes freestyle !

Voyons ensemble le top 3 des trottinettes freestyle Ethic, faites par des riders pour des riders !
La trottinette freestyle Ethic Erawan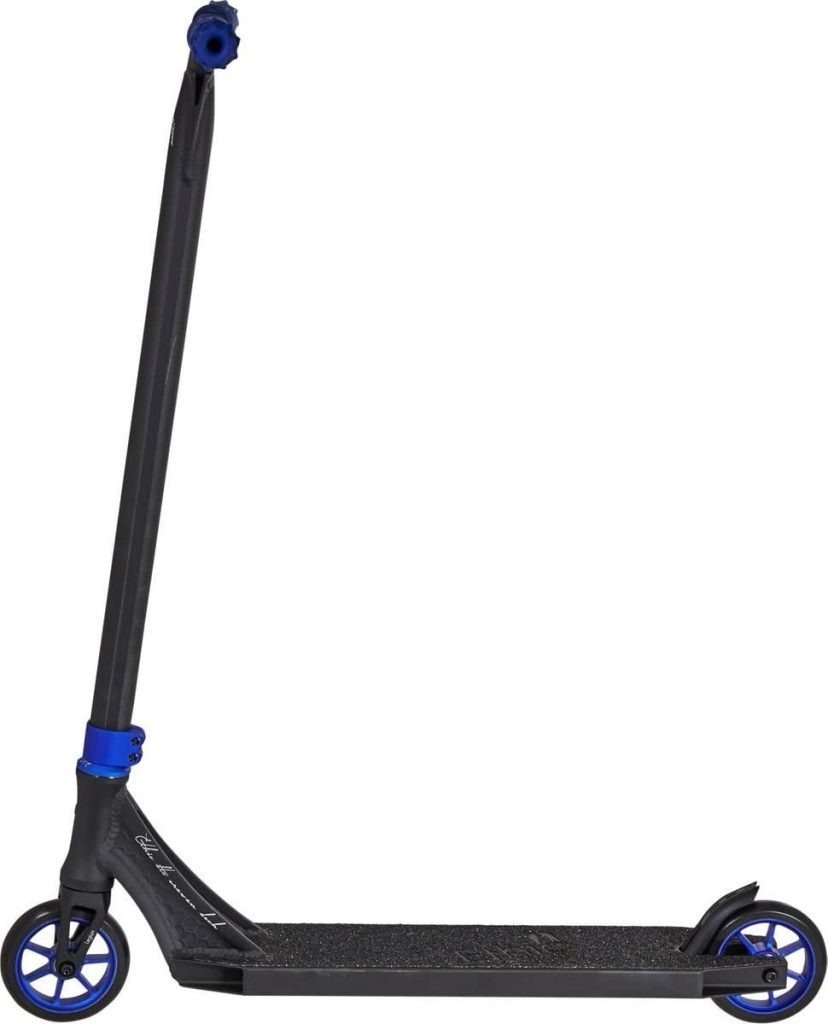 Très populaire en raison de son design fluide, elle vous donne l'opportunité de vous balader en ville ou de réaliser des figues en skate-park. Les fans de glisse urbaine l'ont rapidement adoptée ! C'est sa stabilité et la solidité, qui font de la trottinette freestyle Erawan, l'une des meilleures trottinettes freestyle adulte sur le marché.

Fabriquée à partir d'aluminium, la trottinette Erawan pèse seulement 2,9 kg. Elle est alors facile à manier et offre de grandes possibilités à son utilisateur, comme des tricks très acrobatiques. Concernant les roues de la trottinette freestyle Erawan, elles offrent aux riders une agréable expérience de glisse et mesurent 110 mm de diamètre. Un frein Flex Fender se situe d'ailleurs juste sous la roue arrière. Ses dimensions, sont-elles aussi exceptionnelles avec 11 cm de largeur, 63 cm de longueur et 80 cm pour la hauteur.

Concernant le poids maximum, pas de panique, le modèle peut supporter jusqu'à 100 kg ! Il faut également savoir qu'elle convient à tous : que vous soyez débutant ou roi de la glisse. Et elle peut même être utilisée par les enfants à partir de 8 ans ! En effet, elle est si simple d'utilisation, qu'on apprend vite à la manipuler.

Côté pratique, la qualité est au rendez-vous et la fabrication respecte la norme 14619 afin d'éviter un maximum les risques de blessures lors de son utilisation.
Le guidon possède deux pièces et un collier de serrage pour fixer les poignées utilisées pour le Squid Grip. Le caoutchouc présent sur les poignées est en antidérapant et garantie un plus grand confort et une plus grande sécurité.
De plus, le système de freinage est très performant, il n'est pas nécessaire de se servir du frein à pied pour l'immobiliser, vous gagnez donc en sécurité.

Enfin, si la trottinette freestyle Erawan est une des meilleures trottinettes freestyle sur le marché, c'est qu'elle ne craint pas les usages fréquents. Doté de matériaux de qualité, le produit supporte aisément les figures répétées, la vitesse et les chutes éventuelles. Elle est vraiment idéale pour le skate-park bien qu'elle soit aussi utilisable pour vos trajets du quotidien. De plus, c'est un objet au style élégant, proposé en différentes couleurs, de quoi contraster avec les trottinettes classiques.
Pour l'avoir testé, on vraiment adoré l'effet de glisse sans acroc qu'elle procure. Signe que c'est vraiment une trottinette freestyle de grande qualité. Bien joué la team d'Ethic !

Les + :
– Légèreté du produit
– Facile à manipuler et à transporter
– Résistante aux usages du quotidien
Les – :
– Elle n'est pas pliable
La trottinette freestyle Ethic Artefact
Si vous cherchez un modèle pour votre apprentissage de la trottinette freestyle, c'est bien le modèle Artfact qu'il faut choisir. Chaque élément de la trottinette freestyle Ethic Artefact a été conçu pour vous offrir une expérience de ride unique en ville ou en skate-partk. Son esthétique plutôt discrete et ses couleurs sombre à l'exception des roues rappelle l'élégance de la marque et vous plaira peu importe votre usage.

Comme la trottinette Erawan, la Artefact est très légère avec ses 3 kg et des dimensions adaptées à une bonne prise en main : 26 x 22 x 56 cm.
Le deck, forgé en aluminium 6061 T6 est très léger et maniable. Le guidon est lui aussi conçu de manière à résister aux chocs et vous offrir une expérience unique. Même en tant que débutant, vous n'aurez pas à craindre de faire et refaire des cascades !

Si vous avez passé le stade de débutant que vous maîtrisez déjà les figures de bases ? La trottinette Ethic Artefact vous conviendra tout aussi bien ! Facile à prendre en main elle sera idéale pour apprendre des tricks plus compliqués !

Ce qui fait de ce modèle, l'un des meilleurs sur le marché, c'est encore une fois la qualité des matériaux utilisés par la marque Ethic et l'adaptabilité du produit à votre pratique. Facile à prendre en main, résistant aux chocs et aux chutes et avec un design discret mais joli, la trottinette freestyle Artefact est l'un des meilleurs choix au niveau du rapport qualité/prix. Vous ne serez pas déçu !
Les + :
– Parfaite pour débuter ou progresser dans l'apprentissage des tricks
– Prix compétitif
Les – :
– Article à monter soi-même

La trottinette freestyle Ethic Vulcain
Tout dernier modèle de trottinette freestyle chez Ethic, la trottinette Vulcain est également, la plus haut de gamme grâce à son équipement 12 STD. Ce nouveau système fait également de cette jolie trott la plus robuste sur le marché de la trottinette freestyle.

Plus robuste et imposante que les autres, la trottinette freestyle Vulcain est l'opportunité pour les riders les plus grand de se faire plaisir. Avec cette trottinette enfin adaptée à tous, vous bénéficiez d'un roulage en street et en park !
Mais qui dit plus robuste, ne dit pas plus lourde que les modèles précédents ! Elle pèse seulement 3 kg pour les dimensions suivantes : 26 x 22 x 56 cm.

Son coloris noir mat et son style dur en font un engin un peu rock pour vous imposer sur la rampe. Son deck et sa fourche en aluminium 6061T6 font de la trottinette Vulcain un modèle à la fois léger et résistant. Les roues de 125 mm et les axes de 12 mm encaisseront à la perfection les plus gros chocs.

Outre son positionnement haut de gamme, la trottinette freestyle Vulcain est le modèle qui vous conviendra si vous êtes un rider aguerri à la recherche d'une trottinette adaptable à vos besoins.
Toujours dans le confort et la sécurité, ce produit de la marque Ethic vous promet des heures de ride pour un bon rapport qualité prix.
De plus, si vous souhaitez personnaliser encore plus votre bolide, vous pouvez trouver les produits compatibles avec votre trott directement auprès de la marque.

Les + :
– Trottinette adaptée aux grands riders
– Résistante pour une pratique en park
– Robuste mais légère
Les – :
– Demande une bonne connaissance de la pratique freestyle
Les accessoires indispensables pour compléter sa trottinette Ethic
Pour les riders passionnés qui veulent une trottinette qui leur ressemble, sachez qu'il est toujours possible de personnaliser votre nouvel engin ! Pour cela, il suffit de choisir les bons accessoires, adaptés à votre trottinette et surtout à vos besoins. Vous pouvez par exemple, installer un nouveau deck ou coller des stickers qui feront de votre trottinette freestyle un modèle unique. D'autre part, le casque, élément essentiel pour votre protection, pourra lui aussi faire l'objet de personnalisation. Ce n'est pas parce qu'il est obligatoire, qu'il doit forcément être banal !
Comment bien choisir son casque Ethic ?
23,48€
in stock
5 new from 23,48€
as of 25/10/2021 16 h 00 min
29,99€
in stock
1 new from 29,99€
as of 25/10/2021 16 h 00 min
29,99€
in stock
1 new from 29,99€
as of 25/10/2021 16 h 00 min
Pour rendre le port du casque de trottinette freestyle agréable, il est très important de bien considérer certains détails.
Tout d'abord, il faut bien choisir la taille, il ne doit pas être trop serré, car il sera inconfortable, ni trop large, car son effet sera moindre. Pour plus de confort, les casques Ethic disposent d'une mousse intérieure de 1 cm qui maintient la tête tout en évitant les frottements contre le plastique.
Pour plus de sécurité, votre casque doit respecter les normes CE EN 1078 et CPSC et être équipé d'une sangle de serrage réglable à décrochage rapide et d'un réglage arrière multipostions.
Si vous le pouvez, optez pour un casque avec un feu à LED pour être visible des autres, qu'ils soient riders ou piétons.

Enfin et surtout, faites-vous plaisir dans le design ! Assorti à votre trottinette freestyle ou plutôt à vos équipements de protection, faites du casque un élément à part entière de votre style de rider.
Il existe aujourd'hui différents coloris et motifs allant du simple casque noir au casque les plus créatifs.

En ce qui concerne les TAILLES, la taille S est conçue pour les enfants, les tailles M et L pour les adultes.
Comment modifier son Deck Ethic ?

Le deck est la pièce la plus importante d'une trottinette freestyle, car c'est la plus grande et la plus lourde. Si pour des raisons d'esthétique ou de confort, vous souhaitez changer votre deck, sachez qu'il en existe plusieurs modèles adaptés aux modèles de trottinettes freestyle présenté ci-dessus.

Composé de trois parties, le deck est le plus souvent composé d'aluminium et son poids tourne autour de 1.5 kg.
Il y a tout d'abord le plateau, c'est l'endroit vous placez les pieds. Vient ensuite le headtube, c'est l'endroit par lequel passe la barre et la fourche. Viens enfin le neck qui fait la liaison entre le plateau et le headtubue.

Le meilleur choix dans une pratique freestyle est le deck léger et solide. En effet, un deck léger est plutôt réactif même s'il est plus délicat à gérer. Les decks courts sont plus maniables et seront donc idéaux pour un débutant. Tandis qu'un deck long vous permet plus de hauteur dans vos sauts.

Pour le choix des couleurs, il en existe 4 : noir, gris, rouge et bleu et le prix se situe aux alentours de 110 €.
La petite touche de Matrott': rajouter des stickers Ethic
out of stock
as of 25/10/2021 16 h 00 min
Discret et utile, le sticker se colle se veut comme un détail qui change tout ! Bien plus qu'un autocollant ces stickers permettent de personnaliser le deck et les roues. Allant des motifs colorés aux dessins de cartoon vous trouverez forcément un modèle qui affirmera votre style.

Par exemple, le sticker de la marque Ethic avec le logo de la marque au milieu, est un anti-dérapant. Plus épais que les stickers classiques il permet de garder vos pieds bien fixes sur la trottinette. Prévu en grand format, il s'adapte à toutes les tailles de decks. Toutefois attention, la pose et la découpe demande un certain coup de main. Une fois bien positionner, vous pouvez rouler, il est prévu pour durer !
Conclusion
Vous connaissez maintenant le top 3 des meilleures trottinettes freestyle de la marque française Ethic. Produits haut de gamme et accessible par leur prix, ils sauront vous ravir que vous soyez débutant ou confirmé.
Pour une plus grande satisfaction lors de votre achat, veillez à bien définir vos besoins au préalable. Ils ne seront pas les mêmes si vous pratiquez la trottinette en street ou en park. Les caractéristiques varieront également en fonction de votre taille et de votre poids.
Enfin et pour une pratique optimale de la trottinette freestyle, complétez votre équipement avec des accessoires designs de la même gamme que votre bolide ! Vous gagnerez en style et en confort, car ce sont les équipements que vous aurez choisis et ils répondront de ce fait au mieux à vos besoins !