519,00€
in stock
6 new from 519,00€
13 used from 379,00€
as of 26/01/2022 4 h 07 min
En juillet 2020, alors qu'on s'y attend le moins, le constructeur chinois Xiaomi décide de renouveler entièrement son catalogue de trottinettes électriques.
Il dévoile alors trois produits qui se positionnent sur des gammes différentes. Il y a d'abord Essential qui correspond à l'entrée de gamme. Ensuite, il y a la1S et enfin Xiaomi Mi Electric Scooter Pro 2, le modèle qui nous intéresse aujourd'hui.
Le dernier modèle constitue en réalité une itération d'une version un peu plus ancienne. Disons que c'est une version reconstruite de la M365 qui a été commercialisée à l'été 2019. Cependant, il existe certaines différences entre elles, quoique leur prix soit presque identique, du moins à la date actuelle.
Vaut-il vraiment le coup d'acheter la Pro 2 ? Quelles en sont les caractéristiques ?
Pour donner des réponses à ces questions, j'ai pris le temps de tester le nouveau produit de Xiaomi. Au moment du test, mon objectif était d'identifier les éventuels changements qui justifient le prix de la trottinette.
Dans cet article, nous verrons entre autres ce que réserve l'appareil en ce qui concerne sa prise en main, son ergonomie et son autonomie. 
Pensez également à regarder notre tableau des prix des trottinettes électriques.
Liste des prix des trottinettes électriques les plus vendus du moment
Réception et prise en main de la Xiaomi Mi Electric Scooter Pro 2
Niveau Colis, que contient-il ? Sous quelle forme se présente la trottinette Xiaomi Mi Electric Scooter Pro 2 lorsque vous la recevrez ?
Colis et contenu
Avec la marque chinoise, nous sommes désormais habitués à recevoir des trottinettes dans de grands cartons. Pour la Pro 2, le principe ne change pas : l'appareil est livré dans un énorme carton. Le poids de ce dernier est cependant relativement léger pour en faciliter le transport.
À l'intérieur du carton, vous retrouverez votre trottinette démontée. Le colis se compose du véhicule, d'un chargeur, des poignées à monter, d'un manuel d'utilisation, d'un kit de clés et d'un adaptateur de charge.
Ce que j'ai apprécié à la livraison de notre trottinette, c'est d'abord le poids du carton. Il est léger et ne donne pas l'impression de contenir un accessoire dont le poids est relativement élevé (14,2 kg). C'est pratique, car cela donne la possibilité de se faire livrer, même sur son lieu de travail. Il suffit de ranger le carton dans un coin puis de le mettre dans sa voiture en rentrant à la maison le soir.
Montage de la MI PRO 2
Avec certaines trottinettes, le montage n'est pas toujours facile. À moins d'avoir des compétences techniques dans le domaine ou d'être un mécanicien, assembler les pièces et reformer l'appareil s'avèrent parfois difficile, surtout pour les personnes qui sont débutantes.
Dans le cas de la Xiaomi Mi Electric Scooter Pro 2, tout change.
Vous n'avez pas besoin d'avoir un diplôme en mécanique pour réussir l'installation. Tout ce que vous avez à faire, c'est de visser les poignées. Soulignons que les poignées disposent de quelques indicateurs qui facilitent le travail.
La poignée de gauche affiche un « L » (Left) pour indiquer que le vissage se fait dans le sens des aiguilles d'une montre. En revanche, la poignée de droite a un « R » (Right) pour annoncer que le vissage doit se faire dans le sens inverse des aiguilles d'une montre. Vous ne risquez pas de vous y perdre.
Il est important de bien visser les poignées, car cela permet de bénéficier d'une bonne prise en main lorsque vous tiendrez le guidon lors de vos déplacements avec la trottinette.
Intéressons-nous à présent au montage proprement dit. Voici les étapes à suivre :
Déboulonner la protection : cette démarche permet d'atteindre le bouton de pliage sur lequel vous devez appuyer ;
Régler la hauteur de la potence : elle varie entre 80 cm et 98 cm. N'hésitez pas à faire plusieurs essais pour trouver la hauteur qui vous convient le mieux ;
Brancher la MI Pro afin qu'elle prenne une charge complète : pour savoir que la charge est complète, regardez l'indicateur lumineux. Il doit passer du rouge au vert.
Conception de la trottinette Xiaomi Mi Electric Scooter Pro 2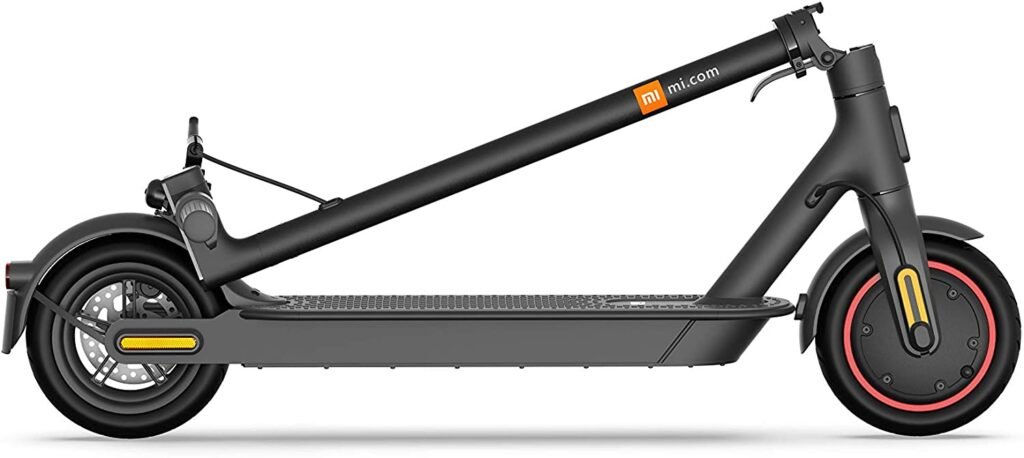 519,00€
in stock
6 new from 519,00€
13 used from 379,00€
as of 26/01/2022 4 h 07 min
À priori, quand on se contente de regarder les photos sur le site internet du fabricant, on a l'impression que la Xiaomi Mi Electric Scooter Pro 2 est une petite trottinette. Cependant, une fois qu'on l'a en face de soi, l'impression change radicalement.
Non, ce n'est pas un petit accessoire ! Mais pour parler de ce qui la rend originale, concentrons-nous sur son design.
Le design de la trottinette
Habituellement, les modifications majeures au niveau des itérations des trottinettes de Xiaomi se trouvent au niveau du moteur ou au niveau de la batterie. Mais dans le cas de la Xiaomi Pro, le vent de changement souffle plutôt du côté du design qui est évolutif.
Xiaomi a fait le choix d'abandonner les bandes réfléchissantes du Mi Electric Pro Scooter pour installer de vrais réflecteurs. Ils sont plus solides et surtout pratiques quand il s'agit de se rendre visible la nuit. Ainsi, les risques d'accident sont considérablement réduits, à notre avis.
Les réflecteurs sont placés le long des roues avant et arrière. À cela s'ajoute un réflecteur rouge qui a été installé au niveau du garde-boue.
Si ce réflecteur est rouge, celui qui se trouve à l'avant, sur la potence, est, lui, blanc. J'ai trouvé ce choix original, car cela crée un contraste magnifique de couleurs : noir, blanc et rouge.
Changement au niveau du garde-boue
Sur les précédentes versions de la trottinette de Xiaomi, le garde-boue était l'une des parties les plus fragiles. Lorsque l'accessoire était fréquemment utilisé, le garde-boue se détériorait très rapidement.
La marque chinoise semble vouloir changer de vapeur avec Xiaomi Mi Electric Scooter Pro 2, puisque de petits renforts latéraux y ont été intégrés.
Des renforts latéraux ont été ajoutés au garde-boue de la trottinette Xiaomi Mi Electric Scooter Pro 2. Source : Pierre Thieulin-Pardo.
Grâce aux renforts latéraux, le maintien est plus durable et efficace. Par contre, puisque la marque s'est essentiellement concentrée sur le garde-boue, elle en a oublié le système de pliage qui, lui, semble subir des dégâts au fil du temps, en cas d'utilisation répétée.
Par ailleurs, la trottinette n'est équipée que d'un seul amortisseur placé à l'avant, sous le cache orange. Contrairement à certains de ses précédents produits, la marque chinoise n'a pas installé un amortisseur arrière.
De ce fait, pour optimiser la durée de vie de la trottinette électrique, je recommande fortement d'éviter les routes qui présentent des aspérités.
Puissance de la Scooter Pro 2
Avoir une trottinette, c'est bien, mais c'est encore mieux lorsqu'elle est pratique. C'est dire que l'appareil doit être capable de proposer à son utilisateur une vitesse et, par-dessus tout, une bonne puissance.
C'est important, puisque la puissance détermine la vitesse de la trottinette. D'où la question suivante : Xiaomi Mi Electric Scooter Pro 2 est-elle puissante ? Pour répondre à la question, il faut d'abord connaître la description technique qu'en fait la marque.
Les caractéristiques techniques
Xiaomi présente la trottinette MI Pro comme une trottinette électrique uniquement disponible en couleur noire. Elle embarque des pneus de 8,5 pouces et un moteur de 600 W au maximum. À en croire la marque, le véhicule s'avère très résistant à l'eau, et il serait suffisamment compact pour accompagner l'utilisateur dans tous ses déplacements.
Du point de vue de sa vitesse, la trottinette électrique franchirait rapidement les 25 km/h et offrirait une autonomie allant jusqu'à 45 km, en fonction du poids de l'utilisateur, du mode de conduite et de l'état de la route. En résumé, voici les caractéristiques techniques qu'on retrouve au niveau de la fiche de l'appareil :
Puissance maximale du moteur électrique : 600 W ;
Poids maximal : 100 kg ;
Poids à vide : 12 kg ;
Ampérage de la batterie : 6 Ah ;
Type de batterie : Lithium Ions ;
Autonomie maximale : 45 km ;
Temps de charge : 4 à 6 h ;
Dimension des pneus : 8 pouces ;
Bluetooth : Oui ;
Application mobile : Oui ;
Récupération d'énergie : Oui ;
Chargeur secteur : Oui ;
Capacité de la batterie : 12400 mAh ;
Batterie amovible : Non.
Vitesse et utilisation
Pour les personnes friandes d'un mode de démarrage en trombe avec la trottinette, Xiaomi Mi Electric Scooter Pro 2 constitue un modèle intéressant.
À l'instar du modèle 365 Pro, elle propose un démarrage rapide qui permet d'atteindre en théorie les 25 km/h. Il suffit de quelques secondes pour passer de 20 km/h aux 25 km/h. Mais ça, ce n'est qu'en théorie !
En effet, au cours de nos tests, je n'ai presque jamais atteint les 25 km/h. C'est à croire que la trottinette a une vitesse bloquée à 24 km/h.
Même sur un espace plat, sans aucune explication rationnelle, il est très difficile de tutoyer la vitesse maximale promise par le fabricant.
Parlons de la puissance. La puissance nominale de la trottinette électrique est de 300 W. Quant à la puissance maximale, elle est de 600 W.
C'est une avancée majeure par rapport aux autres modèles de Xiaomi. Par exemple, pour la 1S, il y a une puissance nominale de 250 W et une puissance maximale de 500 W. Cela veut-il dire que MI Pro est efficace partout ? Pas vraiment !
Sur une légère pente ascendante, vous n'aurez aucune difficulté à piloter votre trottinette électrique. Par contre, s'il y a une inclinaison d'environ 4,4 %, la situation est différente.
Dans ce cas, avec nos tests, je retiens que la Xiaomi Mi Electric Scooter Pro 2 perd un peu de sa rapidité. En fait, elle passe de 25 km/h (ou 24 km/h) pour descendre jusqu'à 15 km/h !
La trottinette électrique propose trois modes d'utilisation, dont le mode Sport. C'est le mode que j'ai utilisé pour réaliser les performances, dont je vous parlais plus haut. C'est d'ailleurs le mode que vous utiliserez fréquemment afin de vous déplacer facilement.
Le deuxième mode proposé est Standard. Avec ce mode, la vitesse maximale est bloquée à 20 km/h.
Même si ce mode n'est pas vraiment rapide – vous ne pourrez pas vous en servir pour faire une course avec des cyclistes – il reste pratique. Pourquoi ? Parce qu'il vous permet de faire des économies d'autonomie sur plusieurs kilomètres, tout en adoptant une conduite prudente.
Le dernier mode est le mode Marche. Il existe pour permettre à l'utilisateur de la Xiaomi Mi Electric Scooter Pro 2 de marcher, tout en conduisant sa trottinette électrique. Tous les 5 km/h, il faut enfoncer la manette des gaz.
Cela permet de ressentir une légère impulsion. Je trouve ce mode efficace, pour les personnes qui veulent faire des promenades sans mettre en danger les piétons.
Autonomie et sensation de glisse
Je pense que l'autonomie est l'un des critères les plus importants pour guider un acheteur de trottinette électrique. Il est vrai que la puissance et la maniabilité sont importantes, mais si l'accessoire n'affiche pas une bonne autonomie ni sa puissance ni sa maniabilité n'aurait vraiment d'utilité.
Avec la MI Pro, nous ne sommes pas déçus, car la performance est meilleure que celle que propose la 1S. À en croire la marque chinoise, la batterie de 12 400 mAh pour 446 Wh peut franchir aisément 45 km. Toutefois, je prends cette indication avec des pincettes.
En effet, pour obtenir ce résultat, la marque a réalisé un protocole de test strict. « Les résultats réels peuvent varier en fonction des différences de température, de charge, de vitesse du vent, des conditions routières et autres facteurs », a souligné le fabricant. Et il fait bien, car dans la pratique, les résultats qu'il a obtenus ne sont pas vérifiés.
Concrètement, voici ce qui se passe. Lorsque vous êtes en mode Sport, vous pouvez couvrir 24 km avant de perdre une barre d'autonomie (l'écran en affiche 5). Ainsi, en roulant presque constamment à 25 km/h, en fonction de votre poids, vous pourriez avoir une autonomie de 30 km. Bien que faible, elle reste supérieure à l'autonomie de la 1S qui, elle, offre 20 km.
Si vous préférez le mode Standard, vous pourriez perdre une barre d'autonomie au bout de 8,5 km parcourus. Globalement, si votre logement se trouve à environ 10 km de votre lieu de travail et que vous utilisez votre trottinette électrique Xiaomi Mi Electric Scooter Pro 2, vous pouvez aisément faire un aller-retour et ne perdre qu'une seule barre de charge.
Pour ce qui est la durée de charge, Xiaomi indique qu'il faut entre 8 h et 9 h pour une charge complète. Il vous faudrait donc brancher votre appareil sur secteur pendant toute la nuit ou au travail pour qu'il retrouve ses 100 % d'autonomie.
Si l'autonomie qu'indique la marque chinoise semble réaliste, peut-on en dire autant de la sensation de glisse ? Celle-ci dépend en grande partie des roues de l'appareil. De ce fait, intéressons-nous aux roues.
Roues de la trottinette électrique
Avec les 8,5 pouces, la taille des roues reste inchangée par rapport aux autres itérations de trottinette. Xiaomi promet que les roues qui équipent Xiaomi Pro 2 sont parfaitement résistantes à la crevaison. De plus, la pression des pneus aurait été améliorée et leur durabilité multipliée par trois. Théoriquement, il n'y aurait donc pas de risque de crevaison possible.
Que ces informations de la société soient vraies ou non, il y a une chose qui ne change pas : la suppression des amortisseurs. Alors que ces derniers sont censés procurer un confort optimal à l'utilisateur, le constructeur a décidé de les faire disparaitre. De ce fait, piloter la trottinette sur des pavés ou des routes avec des aspérités n'est sans doute pas une option à privilégier.
Le confort d'utilisation
Le confort d'utilisation d'une trottinette ne passe pas que par la nature de ses roues. D'autres éléments sont à considérer, comme l'emplacement de la sonnette.
Sur la MI PRO 2, la position de la sonnette n'est pas aisément atteignable avec la main. Pour les petits doigts, cela peut être un problème. En revanche, pour les personnes qui ont des doigts plus grands, il n'y a pas aucune inquiétude à avoir.
Pour le reste, le phare avant de Xiaomi Mi Electric Scooter Pro 2 reste très performant. Il est nettement plus puissant que le phare des précédentes itérations. Il illumine le chemin sur environ 4 m, ce qui en optimise davantage la praticité. Non seulement l'utilisateur peut diminuer les risques d'accident, mais en plus il peut facilement signaler sa présence aux automobilistes.
Xiaomi Mi Electric Scooter Pro 2 embarque un phare avant de 2 W.
Mon avis final sur la Mi Electric Scooter Pro 2
Pour avoir testé la Xiaomi Mi Electric Scooter Pro 2 pendant 2 semaines, je pense sincérement qu'il reste l'un des modèles les plus performants qui soient.
En tout cas, comparé aux précédentes versions de la trottinette, il s'avère avantageux. Il jouit d'une bonne autonomie pour répondre aux besoins des utilisateurs qui s'en servent dans les milieux urbains. De plus, il affiche une excellente robustesse et ses différents modes permettent de faire un démarrage rapide.
La Xiaomi Mi Electric Scooter Pro 2 est plus élaborée que sa voisine la Mi Electric 365 Pro. Si vous n'êtes pas un féru de vitesse et que pour vous le design ne constitue pas un critère majeur, vous pourriez vous en passer. Dans le cas contraire, n'hésitez pas à vous l'offrir.
Pour les personnes qui débutent dans le domaine de la trottinette électrique, MI Pro 2 reste une excellente alternative. En fait, dans la gamme des produits de Xiaomi, à notre avis, c'est la meilleure trottinette électrique. La prise en main est agréable, la puissante est parfaite et la maniabilité excellente.
Tous les avantages de la XIAOMI SCOOTER MI Pro 2
Dans cette section, je vous ai rassemblé tous les avantages relatifs à l'utilisation de la trottinette électrique de Xiaomi :
Le design noir de l'accessoire permet de le rendre discret ;
La trottinette est résistante, car elle est faite à partir d'un alliage d'aluminium haute densité ;
Les poignées qui équipent l'accessoire sont larges et équipées d'antidérapant, ce qui améliore la prise en main ;
Les gâchettes de freinage et d'accélération sont facilement accessibles, car elles sont épaisses : le toucher est agréable ;
La trottinette dispose d'un écran LCD qui fournit des informations en temps réel sur le mode de conduite, le niveau de la batterie, etc. En outre, la luminosité est telle que les informations sur l'écran restent visibles à n'importe quel moment de la journée ou de la soirée ;
L'autonomie de la batterie est bonne : à condition qu'elle soit entièrement chargée, en fonction de votre poids et du mode d'utilisation, la batterie peut vous tenir pendant une journée entière ;
La prise de charge est protégée par un cache qui se referme automatiquement : il n'y a pas de risque que de la poussière s'infiltre à l'intérieur de l'embout de charge ;
La roue arrière est recouverte d'un garde-boue qui évite la projection de boue vers l'utilisateur de la Xiaomi Mi Electric Scooter Pro 2 ;
Les pneus ont une taille de 8,5 pouces, ce qui permet de rouler facilement. De plus, comme l'indique le fabricant, ils sont increvables ;
Le phare avant éclaire suffisamment loin pour permettre de bien conduire, même dans une zone où il y a de l'obscurité ;
La vitesse de pointe de la trottinette électrique est théoriquement de 25 km/h (24 km/h selon nos tests), mais c'est largement suffisant pour organiser des courses avec vos amis ;
Le mode de pliage est très facile à maîtriser : il ne faut que « trois secondes pour plier la trottinette », indique le fabricant.
À ces avantages, ajoutons que l'accessoire est équipé de catadioptres sur les côtés. Je trouve cet élément important, car il permet d'être en conformité avec la législation.
Même si la trottinette Xiaomi Mi Electric Scooter Pro 2 est résistante, ne vous privez pas de resserrer régulièrement les vis en utilisant le kit de clés et un tournevis. Prenez l'habitude de passer un tour de vis, chaque fois que vous conduisez sur une route où vous avez de fortes secousses. Mais dans un cadre général, faites cette opération tous les 500 km ou 1 000 km.
Quelques points de perfectibilité
Même si Xiaomi a consenti à de gros efforts pour rendre l'accessoire plus pratique que les autres modèles, il n'en demeure pas moins qu'il y a des éléments qui, à notre avis, auraient dû être pris en compte :
Le tableau de bord : il est pauvre en informations. Par exemple, il ne permet pas de connaître le nombre de kilomètres parcourus, alors que cela pourrait servir de critère pour déterminer l'autonomie restante ;
L'accélération est moins pratique sur les pentes : sur une piste plate, il n'y a aucune difficulté à démarrer et à faire grimper la vitesse. Par contre, dès qu'il y a des pentes, cela devient un peu plus compliqué ;
Le freinage électronique ne fonctionne vraiment que lorsqu'il est combiné avec le freinage au pied. Sans combinaison, il s'avère relativement difficile de freiner l'engin ;
La trottinette électrique ne dispose que d'un seul amortisseur situé à l'avant : le confort est donc difficile à trouver si vous devez parcourir une route avec des aspérités.
À qui s'adresse la trottinette électrique de Xiaomi ?
Les marques commercialisent généralement leurs produits à l'attention d'un public cible. Avec la MI Pro 2, la recette est à nouveau appliquée. Quelle est l'audience que cible le fabricant ? Pour le savoir, il convient de s'intéresser aux usages possibles de l'accessoire.
Quels sont les usages concernés ?
Compte tenu de ses caractéristiques, la trottinette Xiaomi Mi Electric Scooter Pro 2 répond à tous les besoins, en particulier ceux des personnes qui la destinent à un usage urbain. Sur un trajet qui se compose essentiellement de pistes cyclables, l'accessoire peut être parfait. À l'opposé, sur une route qui comprend des pentes ou des pavés, la trottinette risque d'être secouée.
La trottinette Xiaomi Mi Electric Scooter Pro 2, un appareil pour tous.
L'appareil peut-il être utilisé pour remplacer les transports en commun ? Pas vraiment ! Je ne pense pas que ce soit une bonne idée, et ce, pour deux raisons. La première, c'est que, puisque la trottinette ne dispose que d'un amortisseur, vous ne pourrez pas l'utiliser sur toutes les routes. Résultat : vous risquez d'être très limité dans vos déplacements. Par ailleurs, un usage intensif et régulier pourrait affecter les performances de l'appareil.
Ordre de prix, garantie et conseils d'achat
Le prix de la trottinette Xiaomi Mi Electric Scooter Pro 2 varie considérablement et dépend essentiellement du vendeur vers qui vous vous tournez.
À l'heure où j'écris ce contenu, le véhicule est vendu sur le site officiel du constructeur au prix de 499 €. Il est fourni avec plusieurs accessoires : une clé hexagone, un adaptateur de buse allongé, un adaptateur d'alimentation, un pneu de rechange et un cadenas à code. Pour ce qui est de la garantie, elle est de 2 ans.
Vous pouvez aussi effectuer un achat moins cher sur d'autres sites marchands. En voici quelques-uns :
Fnac : 468 € ;
Amazon : 469 € ;
Cdiscount : 490 € ;
519,00€
in stock
6 new from 519,00€
13 used from 379,00€
as of 26/01/2022 4 h 07 min
Après l'acquisition de votre trottinette, pensez à effectuer un entretien régulier. Pour cela, utilisez un chiffon humide et évitez d'utiliser directement de l'eau sur le véhicule. Pourquoi ? Bien que la trottinette électrique soit conforme à la norme IP54, il y a des chances que l'eau s'infiltre dans ses différents circuits, ce qui pourrait l'endommager.
Enfin, le constructeur suggère de toujours charger complètement la Xiaomi Mi Electric Scooter Pro 2 après chaque utilisation. C'est un moyen d'en prolonger la durée de vie.
En conclusion, que retenir à propos de la trottinette MI Pro 2 de Xiaomi ?
Sans être le modèle le plus parfait qui soit, il reste le plus original et le plus réussi de la gamme de trottinettes électriques que propose le fabricant chinois. Il est résistant et adopte un design stylé que j'apprécie. Cela dit, sa durabilité reste et demeure son plus puissant argument.